Welcome to the 2023 "Legends and Lore of the Superstitions and More," our annual free lecture series which runs every Thursday afternoon at 2 p.m. in the outdoor amphitheater during the winter and early spring seasons at our museum.
Lectures are presented outside in the Museum's Amphitheater, so we have these suggestions for lecture attendees:
Bring your own lawn chair;
Don't forget a hat and sunscreen;
Please, no smoking;
Please don't leave your dog in vehicle;
Coffee and cookies will be available for purchase with all of the proceeds going to the museum for continuing educational programs;
Come early and have lunch on the grounds. Food will be available for purchase.
Buy a raffle ticket!
As a Self-supporting organization that receives no federal, state, or local funding, we rely on revenues generated by our gift shops, events, and fundraisers. At each week's lecture we hold a 50/50 raffle, with half the cash collected going to the lucky winner. Second prize is a lecture-related item from our gift shop. Raffle tickets are priced at 1 for $1, or 6 for $5. Winning tickets are drawn from tickets sold that day. Winner must be present to win. The season-long raffle is a 50/50 drawing, with tickets selling for $5.00 each. At the last lecture on March 23, the holder of the winning ticket will win half of the cash this raffle has collected. The winner need not be present to win. We appreciate your support and participation in our raffle fundraisers.
Buy a VIP Card!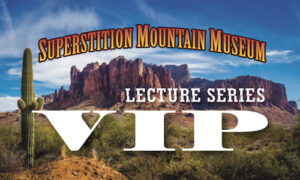 The Museum's popular Free Lecture Series is actually an expensive endeavor. Many staff hours go into reserving speakers and some scholars have fees attached to their appearance. We have created a special Lecture Series VIP card for those who would like to support these events. On Thursdays only, from January 13 through April 7, VIP card holders are entitled to 50¢ coffee. Also included is a one-time-only free hot dog. But wait, there's more… Non-Member Cardholders get a 10% discount in the Gift Shop on Thursdays. The cost is $30 per card and it's available in the Gift Shop.
2023 Presenters:
January 5
The Lost Dutchman and His Mine
Teton Ken
This year's annual lecture about the Old Dutchman Jacob Waltz and his infamous gold mine will be presented by our own Dutchman "look alike in residence," Teton Ken. Learn just who Jacob Waltz was, where he came from, the facts regarding his life and death in Phoenix, and just how the clues (and gold found under his bed) have kindled a flame of interest that has only grown over the years into a mother lode of history and mystery. Teton Ken knows his history. For many years, Teton Ken has packed gold hunters, hikers and television crews into (and out of) the Superstition Mountains. He worked at Apacheland Movie Ranch and is an accomplished actor. During the winter season,Teton Ken and his animals can be found at the museum on weekends giving burro rides and throwing into the mix a few songs and stories.
January 12
History of the Apache Trail
Jodi Akers
Jodi Akers will be discussing the historic Apache Trail – Arizona's only "Historic & Scenic Byway."  Jodi has been traversing the Apache Trail with her family since 1964, and her interest in that area led her to open a Jeep tour business where she spent more than 15 years exploring the nooks and crannies along the trail. Jodi also spent her off hours researching historical tidbits to share with her customers. She will talk about the building of the road, and of the Native American Tribal people, including the family of Eva Tulane Watts, who assisted and were so instrumental in this era of Arizona history. She will also discuss efforts to reopen a section of the historic road that has been closed since 2021 due to rock slides. Jodi still holds a commitment and a promise to keep this history alive and is still vitally involved with the Apache Trail through her Mother Lode Mercantile business at Goldfield Ghost Town.
January 19
[TBD]
January 26
Native American Storytelling
Featuring members of Yellow bird Productions
In conjunction with our Native American Arts Festival, this lecture will include members of the world-renowned Yellow Bird Indian Dancers. Listen and follow the stories of Coyote and other traditional characters as they weave scenes of the past. These stories not only paint beautiful settings but blend life lessons with the beauty that surrounds us. The Museum Amphitheater provides an excellent environment for attendees to immerse themselves in the narratives. Yellow Bird Productions is directed by Ken Duncan, a member of the San Carlos Apache Tribe and on the board of the Superstition Mountain Historical Society. Attendees can join in and celebrate the unique spirit of the American Indian.
February 2
Arizona's Four Peaks Amethyst Mine
Curt Cavano
Many people do not realize that there is a working amethyst mine located in the Four Peaks region that can be seen from the museum. Mine owner Kurt Cavano will be sharing with listeners the history of this mine and his adventures in working it. Kurt is the owner of the Arizona Four Peaks Amethyst Mine. He has been a jewelry-making, stonecutting rockhound for almost 50 years and has owned the mine for the last 15 years. When he is not digging for amethyst in the Four Peaks Mountains he has a day job in New York where he serves as Founder, Vice Chairman and Chief Strategy Officer of GT Nexus, Inc., a supply chain technology company with over 900 employees in 8 different countries around the world. Featured as one of World Trade Magazine's 50 most influential people, Kurt is a frequent speaker and writer on topics concerning international trade and global supply chain management. But what he likes to talk about most is the geology and history of the Four Peaks Amethyst Mine. He is clearly confused as to what world (mining/jewelry or software/international trade) he belongs in. He hopes to figure that out soon. For his presentation, he will also be bringing along rock samples and beautiful jewelry made with amethyst from his mine. For one day only, the jewelry will be sold at reduced prices (20% off).
February 9
Jacob's Trail: The Legend of Jacob Waltz's Lost Dutchman Gold Mine
Jesse Feldman
Jesse Feldman along with his brother Josh, has helped manage his father Ron's business, OK Corral and Stables in Apache Junction for many years. Jesse is also an author and is known for his appearances on the reality TV shows Lost Gold (2017), Ice Cold Gold (2013) and Beyond Oak Island (2020).
February 16
[TBD]
February 23
Arizona Fun Facts
Roger Naylor
Roger Naylor is an award-winning travel writer, an avid hiker, and a road-trip junkie. He is a member of the Arizona Tourism Hall of Fame and the author of several Arizona guides, including Arizona Kicks on Route 66 and Boots and Burgers: An Arizona Handbook for Hungry Hikers.
March 2
[TBD]
March 9
Mexican Artistry and Weaving Traditions
Porfirio Gutierrez & Others
Zapotec Master weaver Porfirio Gutierrez will discuss Zapotec Weaving Traditions. This lecture will be an introduction to the Museum's annual three-day event "The Magic of Mexican Artistry" featuring Mata Ortiz pottery. Also featured will be potter Lila Silveira who will provide her perspective on what life is like in Mata Ortiz and the communities surrounding the village. She will share insights into conditions that created an incredible art community which blossomed in remote Mata Ortiz, Mexico. Because of the uncertainty concerning pandemic restrictions at the Mexico and Canada borders, lecturers were not confirmed at the time this publication went to press.
March 16
[TBD]
March 23
[TBD]
All Superstition Mountain Museum Programs and presentations are subject to change.