Superstition Mountain Museum is excited to present an event celebrating Native American culture and art January 28 & 29, from 9 a.m. to 4 p.m. The three-day Native American Arts Festival will include two stages featuring awe-inspiring dance, storytellers, artisans showcasing their unique creations and talented musicians playing Native Flute and acoustic guitar.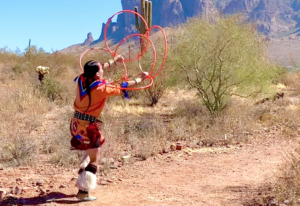 Featured performers are the world famous Yellow Bird Apache Hoop Dancers who will perform once on Saturday and two times on Sunday. Tony Duncan, of Yellow Bird Dancers, is the 2021 World Hoop Champion and has delighted audiences internationally for several years. We are very fortunate to have them on our stage. Also performing as storytellers will be Violet and Ken Duncan of Yellow Bird Productions.
Also performing two times on Saturday are the Largo Dine Navajo Dancers and the Apache Crown Dancers will perform two times on Sunday.
Musical performances by Tony Duncan and Darren Yazzie are scheduled for Saturday afternoon.
Numerous traditional and contemporary tribal-registered Native American artisans will be at the festival, showcasing their work in a Master Craftsman space. They will visit with attendees and provide insights associated with their art.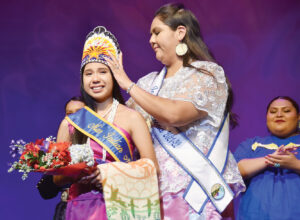 Meet our special guest, Sistine Lewis, 2022-23 Miss Indian Arizona. Miss San Carlos Apache Queen Samantha Stauffer will greet visitors on Sunday. Kicking off events will be Color Guards from Salt River American Legion Post 114 on Saturday and San Carlos Apache Veterans Association on Sunday.
This event is a family-friendly and educational event offering tremendous photographic and shopping opportunities. Admission fee is $10 per person with kids under 10 admitted free.
All events are subject to change.
Schedule
SATURDAY, Jan. 28
9:00 am    Ken Duncan Sr.   Amphitheater
9:00 am    Ryon Polequaptewa   Old West Town
9:30 am    Welcome/ Flag Raising/ Apache Royalty  Amphitheater
10:00 am    Yellowbird Dancers    Amphitheater
10:30 am    Randy Kemp   Old West Town
11:00 am    Largo Dine Navajo Dancers     Amphitheater
12:00 pm   Miss Indian Arizona     Amphitheater
12:30 pm  Ryon Polequaptewa   Old West Town
1:00 pm   Largo Dine Navajo Dancers     Amphitheater
2:00 pm   Tony Duncan & Darren Yazzie     Amphitheater
2:30 pm   Randy Kemp   Old West Town
3:00 pm   Ryon Polequaptewa   Amphitheater
3:45 pm   Closing/ Retire Colors   Amphitheater
SUNDAY, Jan. 29
9:00 am    Ken Duncan Sr.   Amphitheater
9:00 am    Ryon Polequaptewa   Old West Town
9:30 am    Welcome/ Flag Raising/ Apache Royalty  Amphitheater
10:00 am    Apache Crown Dancers    Amphitheater
10:30 am    Randy Kemp   Old West Town
11:00 am    Yellowbird Dancers     Amphitheater
12:00 pm   Miss San Carlos Apache     Amphitheater
12:30 pm  Ryon Polequaptewa   Old West Town
1:00 pm  Apache Crown Dancers     Amphitheater
2:00 pm  Yellowbird Dancers     Amphitheater
2:30 pm   Randy Kemp   Old West Town
3:00 pm   Ryon Polequaptewa   Amphitheater
3:45 pm   Closing/ Retire Colors   Amphitheater
MASTER ARTISTS on the Patio
Avis Pinon, Maricopa artist
Buddy Tubinaugtewa, Hopi Kachina carver
Anthony Belvado, Apache Violin maker
August Wood, Pima Basket maker
Velma Kee Craig, Navajo Rug weaver