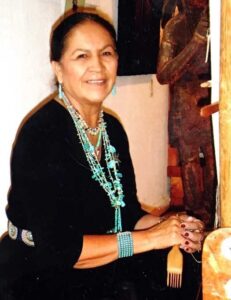 According to Navajo oral tradition, two holy people, Spider Woman and Spider Man, introduced weaving to the Navajo. Spider Man constructed the first loom, which was composed of sunshine, lightning, and rain,  and Spider Woman taught the people how to weave on it. Spider Woman was discovered by the Holy Twins, the culture heroes of the Navajo Creation Story, in a small opening in the earth surrounded by an array of beautiful weavings. Entering her dwelling, the Holy Twins descended a ladder made of yarn, whereupon Spider Woman offered them knowledge of the world of weaving.
Navajo Weaver Nanabah Aragon continues the weaving traditions of her people. She is a master weaver whose works are on display at numerous renowned institutions, including the Smithsonian in Washington D.C., and has been been recognized as an "Arizona State Treasure".
We are pleased to be offering a special two-day weaving class presented by Nanabah. The class will be held on two days, Saturday and Sunday, January 14-15, in the Elvis Chapel from 9am to 1pm. Cost of the class is $85.00. Students must provide their own yarn, and will be notified at a later date as to how much to bring.
The class size is limited to five people, and payment is due with registration. If you are interested in signing up for this special class, please contact Dave McElligott at 480-983-4888 option 3, or email him at giftshop@superstitionmountainmuseum.org