FREE LECTURE:
Welcome to the 2024 "Legends and Lore of the Superstitions and More," our annual free lecture series which runs every Thursday afternoon at 2 p.m. in the outdoor amphitheater during the winter and early spring seasons at our museum.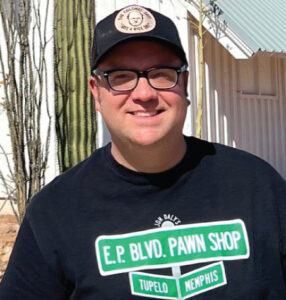 February 15, 2024
Jon Daly: The Story of Elvis' Charro
Jon Daly will share fascinating details about the American Western film Charro! which starred Elvis Presley. Filmed at Apacheland in 1968, Charro! premiered in 1969 and was the first and only film Elvis appeared on screen with a beard. Playing the part of outlaw cowboy Jess Wade, Elvis also did not have a musical interlude—unusual for his film franchise. Jon is the proud owner of the cowboy hat worn by the title character throughout the film. Whether you are an Elvis novice or an Elvis enthusiast, this in-depth presentation will impress and entertain you. Jon will share his vast Elvis knowledge, along with a special focus on the time Elvis spent here at the Gold Canyon movie ranch filming his twenty-ninth film.
Jon has turned his childhood interest of collecting Elvis memorabilia into a remarkable career. He is now a major collector in the U.S. with offices in Memphis, Tupelo and online. Known for his thorough research and keen eye for detail, Jon is relied upon for identification and authentication of everything Elvis. His book Elvis: Guaranteed to Blow Your Mind, details Elvis' November 1976 West Coast Tour with a trove of photos Jon unearthed. His Memphis store, EP Boulevard Pawn Shop, can be viewed online.