Superstition Mountain Museum Railroad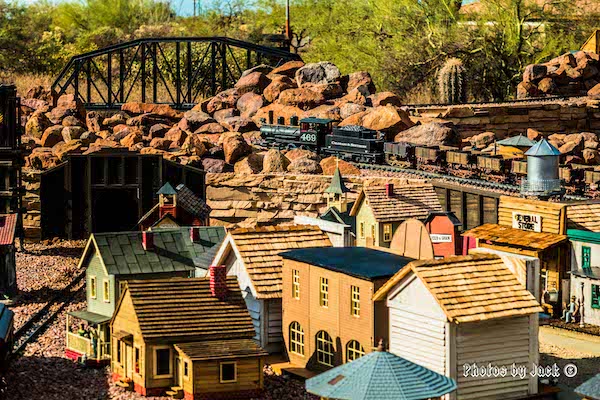 The Superstition Mountain Museum Railroad (SMMRR) takes you on a journey through Arizona history via a huge outdoor G- or Garden-scale model train layout that operates November – May.
This 2,300 square-foot railroad layout contains more than 1500 feet of track, powered through the rails, and controlled remotely by volunteer railroad engineers. Passenger and freight trains pulled by steam engines and a trolley are typically scheduled on this railroad. Trains run though St. Amaro, an Arizona Territory in the late 1800s, to Dutchman's Gulch, a frontier town typical of the 1920s–1930s, past the Roosevelt Dam, gold, silver and copper mines, rodeo grounds and ranches depicting what Arizona looked like in the early days.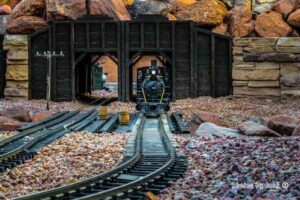 In addition to depicting the five C's of Arizona's economy, Copper, Citrus, Cotton and Cattle, and Climate, the layout also includes a lumber camp and sawmill, and other track side industries. Frontier life from wagon and stage coach travel to everyday activities in a 1930s town are also featured. The many young (and older) train enthusiasts who visit the museum can see firsthand the historic trains and learn about the prominent role these trains took in the settlement of the West.
You can check out the railroad via this VIDEO on YouTube, but to really appreciate how well these exhibits graphically portray the history of Arizona railroading, you'll have to come and experience it firsthand. Bring the kids, they'll love the scavenger hunt!