Superstition Mountain Renegades
The Superstition Mountain Renegades formed in 2019 and perform 3 or 4 shows on Saturdays and special events during the cooler weather months. The Renegades — numbering 10 members now — have performed regularly at the museum throughout the past three winter seasons, albeit with another reenacting group. They have also performed at other venues like Helldorado Days in Tombstone and the Shootout at Whiskey Row in Prescott, Arizona.
The Renegades bring the 1880s alive with skits and gunfights at the Museum. All of the members share a love of the Old Wild West and truly love not only acting out comedy, drama, and gunslinging in their skits, but also meeting all of the museum visitors and offering photo opportunities with the cowboys and cowgirls. The group is often called upon to work as extras in films being shot here in Arizona, so watch for them!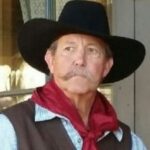 Phil Staley "Beau"
Phil is a retired Director of Technical Affairs for an international veterinary vaccine manufacturing company. He has played keyboards and performed in bands for over 50 years and got interested in theater almost 30 years ago because his daughter was an actress and his wife, Tommye, had gotten involved. Since then he has performed in over 20 plays, both comedies and dramatic musicals, most notably, Civil War: the Musical which was directed by Tommye. He also worked behind the scenes in theater, designing, building and decorating sets, playing in the pit orchestra, stage managing, and running tech. He was also in a Civil War re-enacting group for several years in Delaware. He and Tommye (below) moved to Arizona from Delaware in 2018 and very quickly found the Superstition Mountain Renegades and became regular members and performers of the group. He has also been in three independent films before coming to Arizona and now has been in two western movies in Arizona. He says, "What guy my age didn't want to be a cowboy when he grew up?" And now, he is! Phil is also a regular volunteer at Superstition Mountain Museum.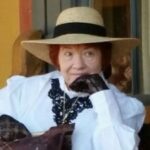 Tommye Staley "Annie"
Tommye is a retired school teacher, having taught for 50 years. She was a Civil War re-enactor for several years. She has also been on stage in 20 plus plays, has had speaking roles in two movies, and a non- speaking role in another. She also performed with an Improv company for 20 years. Her main focus in theater though, has been directing plays, which she has directed more than 30 and musicals, winning awards for two. She has also won awards for two one-act plays that she has written. Her focus now is writing a novel about growing up in the deep south, and being part of a gunfighting group, and being in western movies. She also works as a volunteer at the Superstition Mountain Museum……a job she truly loves.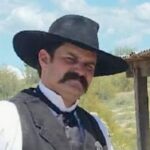 Tyson Alexander "Wyatt"
Tyson currently works as a consultant in the construction industry to include flying "drones" to complete his consultations. Being an Arizona native, he has been in Arizona most of his life, except for the 10 years he served in the United States Marine Corps. As a Captain in the Marines, he flew UH-1N and UH-1Y Huey helicopters. Yes, the mighty Huey is still flown in combat today! He deployed twice and has been to 8 countries as a Marine. Over the years, Tyson, has played two different instruments, the guitar and the saxophone, which he played in the school band (although neither very well, admits Tyson!) When Tyson completed his time in the military, he got into re-enacting and has been performing at the museum mainly as the Marshall since the inception of the group in 2017. He has also performed at multiple other locations including at the 25th Reunion in Tombstone as Wyatt Earp. You can also catch him as an extra in several movies. See if you can recognize him in anything!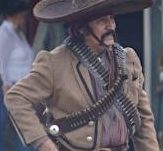 Gilberto Zaragoza "Mala Compañía"
Gilberto was born in Florence, Arizona where he attended Coolidge High School and now lives in Arizona City. Before retiring, he worked as a Parts Manager at Sizer Chevrolet and as a Customer Service Supervisor for Southwest Gas Corporation for 26 years. He also served in the Arizona Army National Guard and deployed to Saudi Arabia/Iraq during Operation Desert Shield/Desert Storm in 1990-1991. He was part of Operation Noble Eagle as well. He retired in 2007 after 30 years and 4 months of service. Gilberto has appeared as an extra in several movies including "The Real Cowboys and Aliens Two", "C-Bar", "Saddle Up", "Gunfight at Silver Creek", and "Atonement". He is also a member of Dr. Buck's Wild Bunch. He loves playing the part of a Mexican Vaquero/Bandito, keeping his Mexican heritage alive by dressing the part. He designs and makes all of his own wardrobe. One problem though is he always gets killed by the good guys, but he loves playing the bad boy! He thoroughly enjoys re-enacting not only with the Superstition Mountain Renegades, but any other groups who may be shorthanded and interacting with the crowd. He has been re-enacting for 13 years now.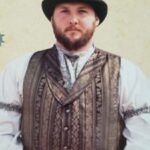 Donald Pease "Badger"
Donald is one of the younger members of the group, born in 1985. He is first and foremost a husband and proud father of a beautiful 5 year old daughter. He is the founder of the cosplay group, Umbrella Corporation Arizona Hive and the co-developer of the upcoming and soon to be released card game, Decked. He is also a Freemason at Prometheus Lodge #87. Donald has been re-enacting and gunfighting for a couple of years now and has played both sides of the law, i.e. both as a sheriff and bad guy. He is one of the group's armorers and reloads all of the ammunition for the group. (Great job and a BIG THANKS, Donald) !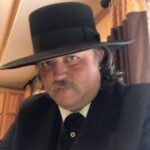 Duncan McLeod "Ike"
Duncan is a 9 year military veteran having served for seven years in the navy and two years in the Air Force. This is one busy guy! He not only works full time but is also a Freemason at Prometheus Lodge #87, an actor, a cosplayer, a movie vehicle replicator, a full armor combatant in the Society for Creative Anachronism, a Renaissance Fair musician, and a western re-enactor with the Superstition Mountain Renegades. Duncan can die after being shot like no one you have ever seen before! He has been with the group a couple of years now.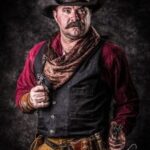 Jared Redden "Bear"
A 3rd generation Arizona native, Jared grew up in the shadow of the Superstition Mountains and within earshot of the historical lore that revolved around the region. His two favorite things have always been history and adventure. Growing up, his dream was always to be a professor of history. As a kid on Saturday morning you wouldn't find him watching cartoons, but instead he would be watching documentaries or have his nose stuck in the latest National Geographic or True West magazine. His love for adventure lead him to service in the United States Air Force and a four year stint in beautiful but cold Minot, North Dakota. But his heart laid in the west so he returned to Arizona and began working at a family owned hardware store where, on his very first day, he met the woman who would become his wife – Sarah. They soon began dating and on one of their adventures they happened upon a western re-enactment show where Jared remarked, "after our kids grow up I think I'd like to do that." 8 years, 2 kids, and many family adventures later, Jared found a perfect mix of history and adventure performing with the Superstition Mountain Renegades. A union that started with encouragement from Sarah through a swift kick in the butt accompanied by a stern "go talk to them".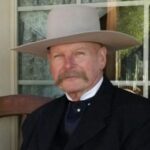 Al Turner "Colt"
Born and raised in Albany, NY close by the Adirondack Mountains provided many winters of sleigh riding. Sledding was in his blood. When he became older he gravitated North to Lake Placid, NY home of the 1932 and 1980 winter Olympic Games. There he pursued his passion of sliding which became a career in Bobsledding. His career spanned 20 plus years as a Pilot (driver) of 2 & 4 man sleds. This journey took him to many bobsled tracks in Europe, culminating in 1984, as the USA Olympic team Bobsled Coach in Sarajevo, Yugoslavia. Recognizable by his wearing of a Western (Cowboy) Hat, he was proud to represent! Al continued on as an international judge for the sport where teams always associated the USA with the Cowboy hat, this fueled by desire to experience the history of our country in the "Wild West". Moving to Arizona, he began the shoot up experience by re-enactment with the Mule Skinners in Goldfield, AZ. Moving on to experience more fun with the Superstition Renegades!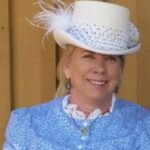 Peggy Turner "Denver"
Peggy is passionate about experiencing living history of the Old West. She is originally from the New England area with lots of history, then moved and experienced more recent history of Colorado and Arizona, which has all fueled her interest in living history. Her formal education and career revolve around health care, community nutrition, and early childhood education. She has 4 children and 3 grandchildren. Throughout her life she has been in leadership roles that have allowed mentoring and teaching. Re-enacting allows her a way to continue to teach and share with an audience of all ages interested in history and the ways of the past. Peggy re-enacted with the Muleskinners at Goldfield for one year and has been with the Superstition Mountain Renegades for 2 years.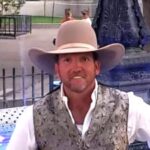 DeWayne Hudson
Superstition Mountain RenegadeDeWayne was born in Monroe, Louisiana and then grew up in southern Arkansas. He has travelled the country as a master welder working on everything from microchip manufacturing facilities to aerospace installations. He is the newest member of the Renegades but not unfamiliar with the cowboy scene. DeWayne has ridden bronco horses, and was ranked #5 in the world as a professional bull rider as well as re-enacted with several gunfighting groups including the Renegades. He has also been involved in three recent wild west films: Gunfight at Silver Creek, Atonement, and Eminence Hill.