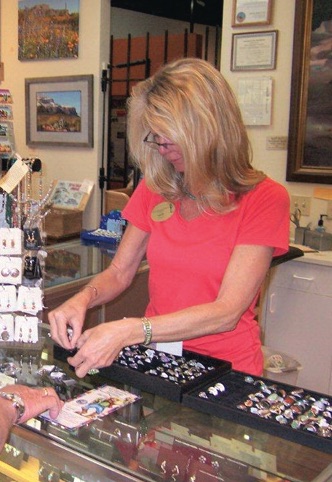 Museum Store
In our Museum Store, you will find a wide array of distinctive and unique items ranging from exclusive custom-made souvenirs to local Native American arts and crafts, from rock and mineral samples to custom jewelry made from amethysts mined from Arizona's only amethyst mine. In addition, featured in our Museum Store is one of the finest selection of books on a wide variety of Southwest and local historical topics that can be found in the Valley.
The magic of the best in contemporary Mexican artistry is represented by whimsical, hand carved and painted Oaxacan animals, and by the finest pottery work done by the artists of Mata Ortiz.
The handmade items lining the cases and shelves of our shop include gorgeous, investment quality jewelry pieces created by well-known Navaho artists including Tommy Jackson, exquisite and detailed Zuni fetishes, Pueblo and Navajo pottery, and Apache beadwork. We are proud to be carrying some excellent handcrafted museum quality belt buckles, bracelets and rings by the late Henry T. Morris, the well-known Navajo silver and goldsmith.