Join Our Family of Volunteers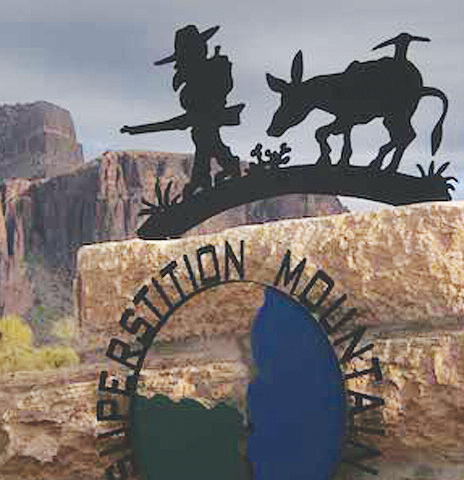 Are you looking for something meaningful to do a few hours a week?
 Do you enjoy working with friendly, interesting people?
 Would you like to use your special talents to help the community?
If so, consider volunteering at the Superstition Mountain Museum. We are always looking for friendly, enthusiastic people who have a few hours a week to invest in an activity that is meaningful, that utilizes their unique skills, and that puts them in a beautiful environment full of other friendly people with similar reasons for being there.  Is that you? If so, we can offer you a wide variety of volunteer opportunities.
CASHIERS & RETAIL SUPPORT:  If you have a background in retail (or not), you may like to become a cashier or help with inventory management in the gift shop or Charlies General Store.  Morning and afternoon shifts when open.
DOCENTS:  If you're the outgoing type who enjoys meeting and speaking with lots of diverse people, perhaps you would like to be a docent.  Docents greet our visitors, engage them in brief, welcoming conversation, tell them about the museum, and set them on their way to an great experience at the museum.  We need docents for the Museum, Elvis Chapel, and Audi Murphy Barn.  Morning and afternoon shifts when open.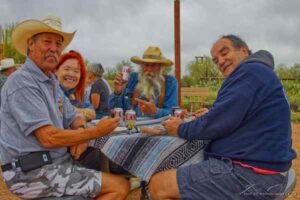 RAIL ROAD ENGINEERS:  Did you have a great model train set as a kid?  Do you still  have one? Do you have a thing for rail roads.  If so, becoming a member of the SMMRR group who operate and maintain the incredible Superstition Mountain Museum Rail Road exhibit.  Thursday – Sunday 10am – 2pm shifts when running, work days for maintenance.
MINING TOWN:   Do you have a background in engineering, mining,  chemistry, or mechanics?  Mining town might be to your liking.  We need mill men (or women) to maintain and operate our Cossack 20 Stamp Ore Mill and teachers to explain our fully equipped SMMMC Assay and Mill Offices, head frame, Arastra, and other mining equipment to our visitors.  Hours depend on operating schedule and project work.
EVENT ACTIVITIES:   Most of our regular weekly volunteers work our special events as well because it's exciting but we have a group of Special Event volunteers that we count on to man our raffle tables, decorate, and fill the roles that we can't fill with our regulars.  If that's appealing to you, sign on up!  There are approximately 12 events per year that this group works.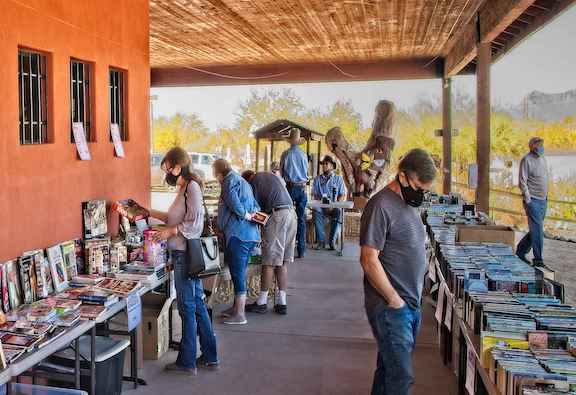 ADMINISTRATIVE SUPPORT:  If you have a background in accounting, book keeping, social media management, advertising, or fund raising and would be willing to help us out in your discipline, management is always looking for ways to get more done in less time.  Hours depend on role.
SKILLED LABOR:  Are you someone with a construction or landscaping background? We maintain virtually everything on our campus with volunteers.  And we build new exhibits from time to time.  We need electricians, framers, carpenters, plumbers, and gardeners.  If you have a skill like these and would be willing to volunteer to help us with projects on an as needed basis, we would be grateful to put your name on our list of folks to call.  Hours depend on project.
To join our family, stop by the museum and fill out a volunteer application form or e-mail [email protected] and let our volunteer guru know you're interested.  You can also call (480) 983-4888 and select option 4.