Join Superstition Mountain Museum
Members help sustain this celebrated regional institution while enjoying many outstanding benefits throughout the year.
Since the formation of the Superstition Mountain Historical Society in 1980, the Superstition Mountain Museum has been nurtured and expanded from a storefront at Goldfield Ghost Town to having its own buildings and property in the beautiful foothills of this region's most famous and familiar landmark. By becoming a member, you support the Museum and at the same time gain the many benefits of being a member. All Memberships are on an annual cycle, starting on the date the application and fee is paid and ending 1 year later.
All Membership levels include:
10% discount on gift and book items in Gift Shop and 20% off jewelry.  No sales tax!
Arizona Museum Partnership Program - free admission and 10% off in stores of participating museums: Cave Creek Museum, Rim Country Museum & Zane Grey Cabin, River of Time Museum and Rosson House Museum.
Digital subscription to the member newsletter - The Messenger.
Special previews to new exhibits.
How do I join?
Online: Purchase your membership online by using either of the two links provided next to the membership level description.
In-person: Print and complete a Membership Application (link below) and bring it into the museum with your payment (we also have them in the museum).
By Mail: Print your completed Membership Application, then mail it with your payment to the museum.
We look forward to you becoming a Member!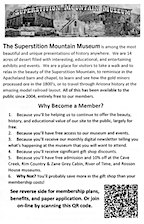 Preserve Local History
Superstition Mountain Museum strives to continue growing and depends on the generosity of its members and donors like you, who love the region and want to preserve its history. Your donation goes directly to programs and acquisitions that benefit all of our visitors.
Please consider a donation to the Superstition Mountain Museum, a non-profit corporation under Section 501 (c) 3, and click on the button below to make a secure contribution. Thank you, we appreciate your support!