The Museum officially starts its season on Saturday, November 11.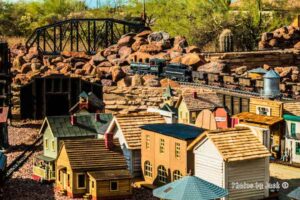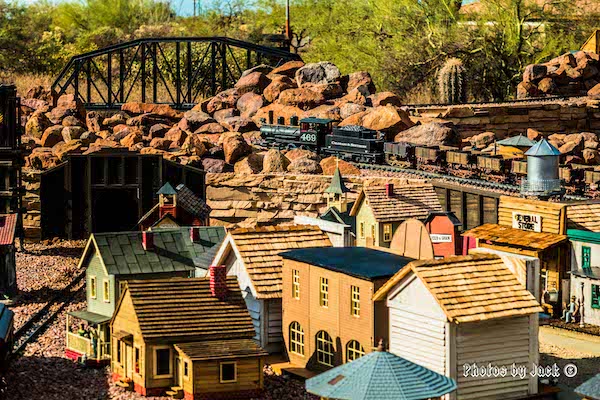 Come and see the Superstition Mountain Railroad model train exhibit running full steam ahead—this will be its seventh season of operation. This entertaining and educational exhibit represents how railroads played a major role in the development of the state of Arizona. The trains, buildings and all of the features are historically accurate and almost all of the buildings were handmade.
Also making its seasonal debut is the Museum's Working 20-Stamp Ore Mill. It's 100 years old and still crushing rock! It uses heavy metal stamps to pound and break apart ore, releasing the valuable metals and allowing for the extraction of gold and silver for further refining. Currently, demonstrations will be at 11:30 am on Saturdays until December 17. Future demonstrations are scheduled on Thursdays at 1:00 pm, before the free lectures beginning January 4, 2024.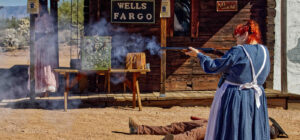 The Superstition Renegades are also back disturbing the peace on the streets of our Old West set. The local professional group brings the 1880s alive with their skits and are always ready to photo-bomb your selfies. The Renegades perform shows of gunplay and outlaw justice at the Museum on Saturdays. Shows begin at noon, 1:00, 2:00 and 3:00 pm.
Opening Day will also be attended by local favorite Teton Ken and his burro Mary, giving rides and spinning tales of his days prospecting in the Superstitions. His "Burro-Mobile" outshines any "Cowboy Cadillac" on the road and even makes its own gas.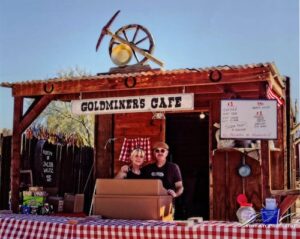 The Goldminer's Cafe will sell snacks and drinks at our events.
If you haven't visited the Museum Gallery since its reopening, please be ready for a surprise. The space has been completely reimagined and organized to lead visitors on a historical and enlightening journey. There is an admission fee for the gallery, children under 10 are free with a paid adult. Members are admitted free.