FREE LECTURE:
Welcome to the 2024 "Legends and Lore of the Superstitions and More," our annual free lecture series which runs every Thursday afternoon at 2 p.m. in the outdoor amphitheater during the winter and early spring seasons at our museum.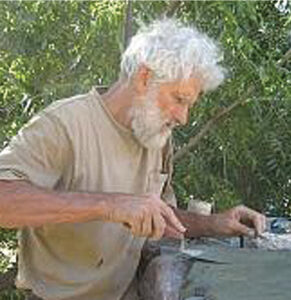 February 8, 2024
Peter "Bigfoot" Busnack: Southwest Desert Survival and Healing
Peter has an almost-forgotten lifestyle, living life his way in the vastness of the Superstitions Mountains. He will recount his tale of
an 85-mile solo trek in the desert and how he used his preparations and skills to survive. "Bigfoot"—because of his size 15 shoe—is a respected natural healer, Sonoran desert herbalist and teacher.
He is the founder of Reevis Mountain School of Self-Reliance,
a magical wilderness homestead, farm, and sanctuary located in the Superstition Wilderness.
Bigfoot is the author of three books of simple, natural remedies gleaned from 50 years of personal experience and wisdom; Book of Ancient Natural Remedies, Natural Remedies For Bites and Stings, and Cooking with Bigfoot.