On November 25-27, 2022 and again on December 10-11, the museum will be hosting Holiday Boutiques featuring artists and merchants displaying and selling their unique items. Come and share the festive mood that will prevail among vendors set up all over the grounds.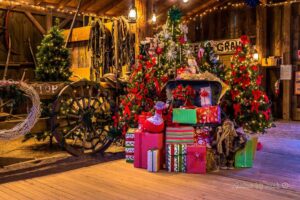 Local artists and crafters will be displaying and selling their creations on the patio, in the Barn and on the grounds. This year they will be offering a wide assortment of unique Christmas gifts including Native American Art, rocks and gemstones, handmade soaps, handcrafted jewelry, leather goods, wood art, paintings, photographs, beadwork, knitted items, rock art, wind chimes, and wine wraps.
Just in time for the Christmas season, the Chapel, Barn, Patio, and grounds have been transformed by our volunteers into "An Old-Fashioned Christmas in the Barn."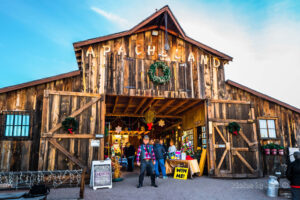 A walk into the Barn will whisk visitors to a time and place when life and Christmas celebrations were simple and heartfelt, when nature furnished many of the traditional green and red decorations displayed at Christmas, when families constructed hand-made decorations for their Christmas trees, when the usual mode of winter transportation – the sleigh – was decorated gaily for "dashing through the snow" to visit friends. Come out view the awesome decorations.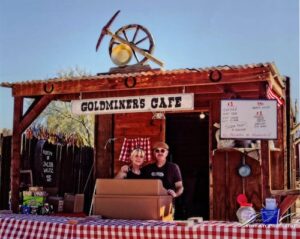 Enjoy a hot beverage at the Goldminers Cafe, featuring coffee and hot chocolate. The kids will also be able to try their hand at panning for gold in front of the barn. Teton Ken and his mules will be on hand to perform magic tricks and tell stories of the Lost Dutchman. The large train set, the Superstition Mountain Museum Railroad, will be running for your enjoyment, from 10am – 2pm. The Superstition Mountain Renegades gunfighter group will be shooting each out at the Old West Town at 12:00, 1:00, 2:00, and 3:00.